Can you think of a retail store when the moment you step foot you're saying "ooohhh, ahhh" and don't even know where to begin because you're so intrigued and amazed at a place. Personally, a store that makes me feel rich, sophisticated, chic yet home-country loving, would have to be good ol' established in 1992 and parent of Urban Outfitters, Inc., Anthropologie. You can sense the type of aesthetic by the way their clothes hang on the mannequins, an accessory table laid out beautifully, a beauty and wellness section with mirrors everywhere to represent your inner and outer beauty. One of Anthropologie's most jaw-dropping attribute about them is how lovely their decor is displayed. You'll see cute dainty lanterns hanging from the ceilings, big wooden doors as an entrance, wooden floors throughout the whole store, and of course we can't forget their home essentials such as bedding, table tops, pillows, mirrors, or even the tiniest thing for a house like rusted door knobs! What else could a woman ask for?? Anthropologie is one of those stores that has this power that can make you feel like a whole new person.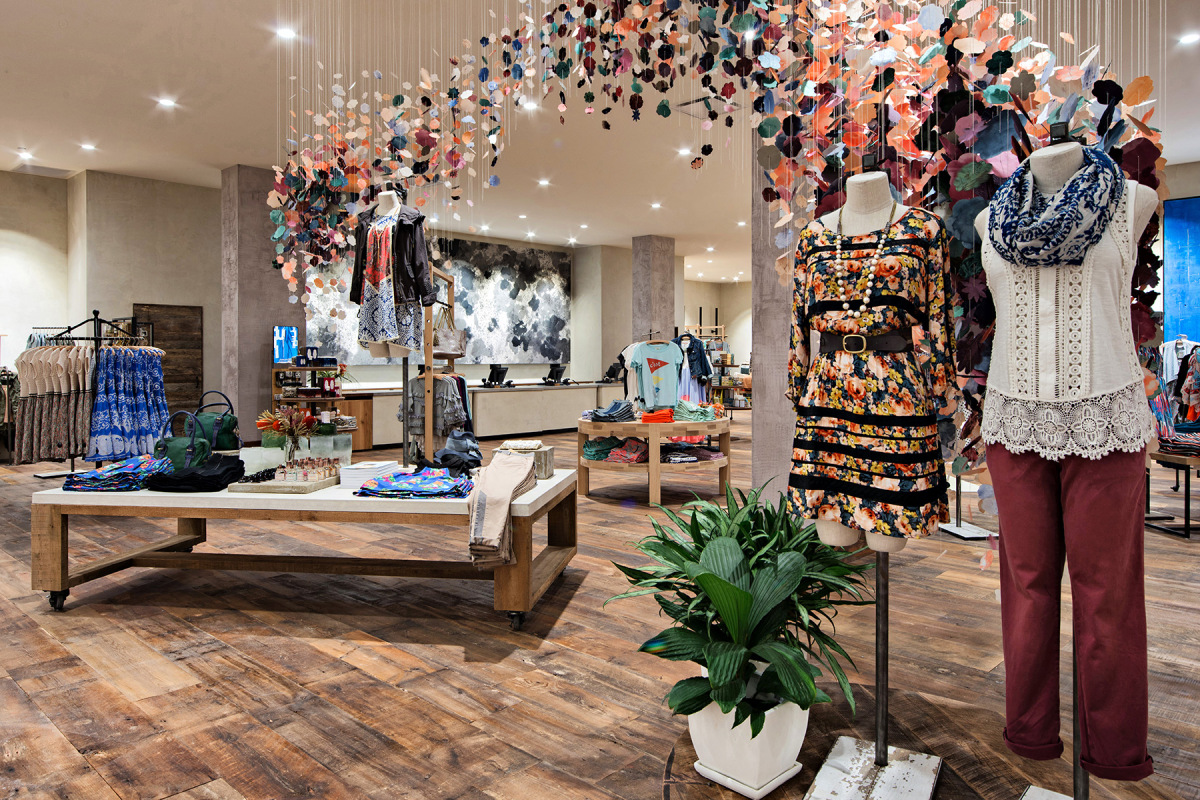 But let's dive into the reasons why Anthropologie gets woman of all ages ecstatic to shop with their company. I mean, I can't blame them, they do such a good job at making you feel like you're thriving and deserve to be there! So, what are those reasons exactly? And truly, what do the consumers think about Anthropologie's clothing brand and the experiences that has been held within those big wooden doors.
Author Chavie Lieber on December 4, 2014 expresses the Unraveling Anthropologie's Intoxicating Store Experience. Something that makes Anthropologie stand out from other retail stores is there tactics based off of comfort and individuality. The corporate creative director of Anthropologie, Missy Peltz tells Racked that the brand aims for "eclectic, rustic, modern" feel. Hence why they put so much effort into the stores physically and visually to create this fantasy for consumers to get lost in. Peltz also mentions that the company aims to hit every sense when consumers are shopping so, just not by experiences but as well as a certain smell, feeling, or hearing something that makes feel happy while shopping at Anthropologie. Peltz says "we want everyone to feel welcome."
But why are the dresses retailing for $400 or even a ring holder at $70? Because Anthropologie is simply exceptional. Anthro assumes their consumers are loaded with in incredible income, since most of their consumers are from the ages 28 to 45. But what I find interesting is that Urban Outfitters retails their clothing for a lot less expensive than Anthropologie. Now thats a whole other topic to look into, but since Anthro is its own brand, they must stay loyal to that brand and give what the consumers expect.